Gouderakstraat 22, Rotterdam, Netherland, 3079 DB
With a total of 12 staff, Inglasco Group has established itself in the marine industry with a reputation of being a reliable and highly skilled company, both for owners and for classification societies.Inglasco Group's interest has now been divided into t ...
Read More...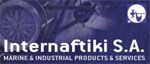 Alipedou 6, Piraeus, Greece, 18531
Internaftiki AEBE was inaugurated in 1975 near the Port of Piraeus. Since its foundation, the company has expanded rapidly in the field of marine and industrial products, by offering an entire range of service activities on ships and yacht machinery. All ...
Read More...

José E. Colombres 2353 -160, Munro, Buenos Aires, Argentina
Life Saving Equipment. Over a decade supplying lifesaving and personal protection equipment, for the maritime industry, Military Forces, Off-Shore and aeronautical industries. Integral maritime and industrial maintenance solutions to ship-owners, shipyar ...
Read More...

15 Moor Road, Broadstone, Dorset, ENGLAND (UK)
Safety Equipment. Supply of DSB liferafts mini slides and inflatable boats.  All other types of marine safety equipment. SOLAS Training Manuals & Fire Training Manuals